Watch this webinar to discover the results of the 2014 Engineering Marketer survey and gain insights on what other engineering marketers are doing (or not doing) in an effort to better their marketing returns this year. You'll get plenty of valuable tips and trends to help you in optimizing your own marketing spending.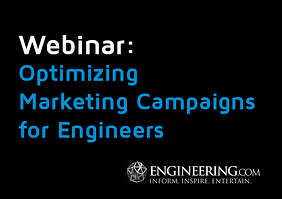 In this webinar you'll find out:
Whether engineering marketers are getting more budget in 2014
If anyone plans to invest in print media
Where engineering marketers will spend more money this year
What's types of content are most popular for an engineering audience – white papers or webinars
What's the biggest challenge facing engineering marketers in 2014

Your webinar host: John Hayes
President, ENGINEERING.com
John is the author of the Digital Marketing for Engineers blog, Digital Marketing for Engineers eBook and the Video Marketing for Engineers eBook.
| | |
| --- | --- |
| | Learn more about how marketers are planning their 2014 campaigns for engineers. |