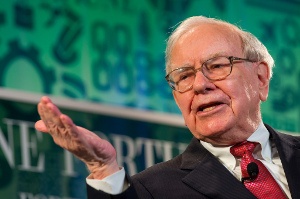 When I was in my early twenties, I worked in a comic book shop after school and on weekends. This wasn't just any comic book shop – at the time we were one of the largest seller of collectibles on the East Coast, slinging comics and trading cards (and way too many Webkinz). Our mini-Amazon and the mountains of USPS boxes we amassed each week were the vision of my boss Eddy—a powder-keg of a man, explosive in ideas and temperament, incapable of sleep and obsessed with winning in all things.
One day Eddy turned to me and said, "eBay is running an auction to have lunch with Warren Buffett. I don't think there is another person alive who I'd rather sit down to lunch with." Being more interested in cards than business at this point, I shrugged and told him I didn't really see why it's worth much of anything at all. I think Eddy went into shock. After a moment he looked at me, with a tone in his voice as if he was speaking to an alien completely oblivious to the order of the world, and stated, "He's the best. Think of what you could learn just by studying what he does and getting to ask him questions."
Why the long anecdote? Well besides the nostalgia, today I'm going to offer you some insights from the best. Not Warren Buffett (sadly), but from the marketers who killed it in 2017 and are poised to conquer in 2018. The data comes from a recent survey that engineering.com issued to fans of this blog and to our customers.
The full study, 2018 Budget Trends in Industrial & Technology Marketing, has a ton of great information any marketer could use, but this post is all about the winners—the Serena Williams, Mike Trouts, and Meryl Streeps of the marketing world—and what they're doing differently.