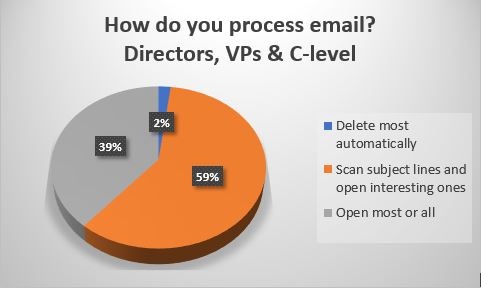 Engineering marketers frequently say, "We need to reach decision makers with this campaign'" often because their sales teams tell them, "Whenever we get in front of a decision maker, we have a great shot at the sale, so let's only talk to decision makers."
As anyone who has run a campaign that targets decision makers knows, this is no easy road. We recently surveyed over 100 Director and CXO level engineers about their information consumption habits. This research shows how you can reach those decision makers.
Take email, for example. Do you think they read it? Well, they do.
98% of engineering directors, VPs and C-level respondents say that they at least scan the subject line of every email they receive. 98%! That's huge. And 39% actually open most or all of the emails that you send. So that may leave you wondering why they don't engage with your content and become active leads.
That has more to do with them than you.