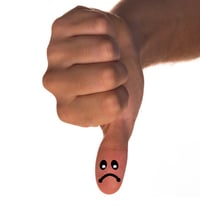 We know that creating engineering content to feed your marketing funnel is a hassle. Like most marketers, you have probably been tempted to outsource this hassle. You may have even gone low bid in order to save budget.
What I hope you haven't done is use somebody like the guy who sent me this ridiculous email offering a content creation service. I'm sharing it as an extreme example of what not to do. There are a few worthwhile points that come up, and hey, even if you don't learn much at least it may make you smile.
This email landed in my inbox yesterday. It wouldn't have been so bad except for the fact that the service this guy was offering was content creation. Here it is:
Hi,
I am [name that does not match the email sender] from [Company Name] Web Solutions. A company having expertise in blogger outreach, guest posting and link building services. We have a team of quality content writers from USA, UK and Canada. We will provide you high quality contents related to your requirements in all niches.
If you have any query or want to see our sample work, please feel free to reply to this email.
Please give us a chance at least once so that we can flourish your business.
Looking forward to your response and hoping a good and long term relationship with you…
Regards,
[name that does not match]
What can marketers learn from this email? Much as I would like to have these dudes "flourish my business" (that sounds a little risqué, does it not?), I don't find their message trustworthy because:
I've never heard of their company, so I don't trust their brand. It was a fluke that I opened the email. Companies need some level of branding to start a conversation with engineers.
My name is not on the email. The greeting simply says, "hi". There are few more certain tip-offs that what is to follow is completely useless than to have a generic greeting.
He gets to the point in the first paragraph, so kudos for that. Unfortunately, the fact that his grammar is atrocious while he is trying to sell "high quality contents" is pretty funny.
There is no link where I can check out his work. Not that I would want to anyway, but emails should have ways to click through. This one has none. And it's from a self-professed marketing expert.
I give lots of leeway to people who send emails with less than perfect English or grammar, but when the service you are offering depends on your ability to communicate, well….
If you want help with your engineering content creation, ENGINEERING.com and other trade pubs offer sponsored posts, webinars and research reports with less risk. Publishers also bring distribution to the piece they create, providing additional value. These services have proven very popular with engineering marketers and audiences in our world, so do let us know if you would like additional info. Perhaps we can flourish your business!
Cheers,
John