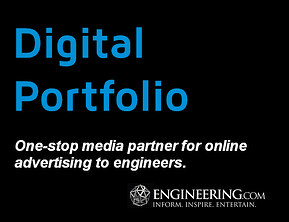 We take care to align our client's content within our digital properties and across our multi-channel reach.
Our platform provides digital marketers the time and place to start a conversation with their targeted audience.
ENGINEERING.com's product matrix helps marketers with their branding and lead genderation campaigns through banner advertising, email marketing, and demand
generation offerings. We also have unique services to showcase our clients as thought leaders.
Our sales team can help track campaign metrics to ensure that your program goals are achieved.
Find out more about our product matrix by downloading the Digital Portfolio brochure.
OUR DIGITAL PORTFOLIO MATRIX INCLUDES:

ENGINEERING.com - Information and entertainment for engineers of all disciplines.
Eng-Tips - The world's most active forum for professional engineers.
eFunda - Original content reference site for mechanical engineering.
Engineering Central - Network of niche engineering job boards.
Tek-Tips - Large and active forum for technology professionals.