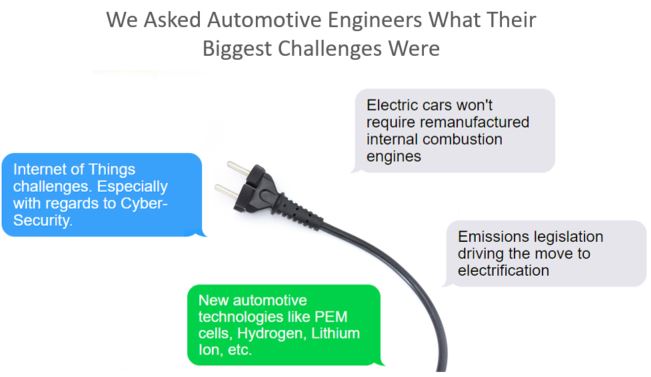 We recently surveyed 1,187 engineers about their information consumption habits. We'll have the full research report out in the next week or so. Starting today, and extending through the next few weeks, we'll investigate specific segments of engineers to surface unique insights into those populations. Our goal is to inform your tactical decisions as marketers when you seek to target a specific engineering niche.
We'll be starting with the automotive industry. The survey had a healthy turnout with almost 100 respondents in the automotive industry. They demonstrated that they are not like other engineers in many important ways. For example, the following chart shows you the answer to the question "At what stage of your investigations into a new product or service do you prefer to engage with a vendor representative as opposed to conducting independent research?"
Most Engineers in other industries want to wait until later in their buying process to be contacted by a sales rep from your company, whereas automotive engineers prefer to be contacted earlier. If you are building a campaign that targets automotive engineers, you need to give them the option to be contacted by sales sooner than when you are targeting other engineers.
I have some theories on why this may be true, but no facts. All I can tell you for sure is that the difference between automotive engineers and other engineers was statistically significant – meaning the difference we are seeing is real, and automotive engineers are unique.
We also found that automotive engineers:
Spend more time each week consuming engineering content than other engineers
Consume a lot of short written articles and video
Say that new product designs represent the biggest challenges in their industry
In this blog post we'll share the research about the information consumption habits of automotive engineers, along with a number of charts to help us all make sense of the data.