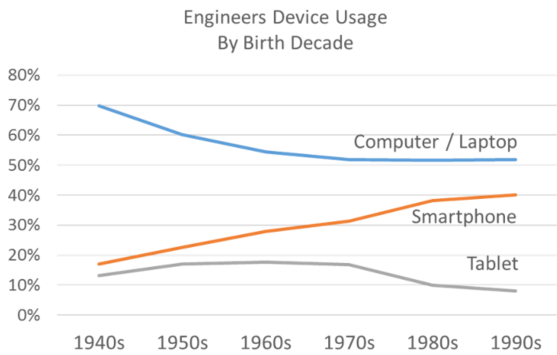 Marketers have fine-tuned their campaigns to reach decision makers – often those engineers in their 40's or older. But many are now asking how to reach those engineers who influence decisions rather than having only the ones who have the final say.
Why do engineering marketers want to reach influencers? It's because these engineers play a critical role in purchase decisions. They consume vast amounts of content as part of their jobs. They play the role of providing the short list of potential solutions. These engineers are often earlier in their careers, and they don't find information the same way as their older colleagues.
Earlier this month we surveyed over 1,000 engineers about their information habits. You can see the full results in a webinar on Wednesday October 5th at 2:00 Eastern, so please sign up.
Here's one of the many interesting findings.